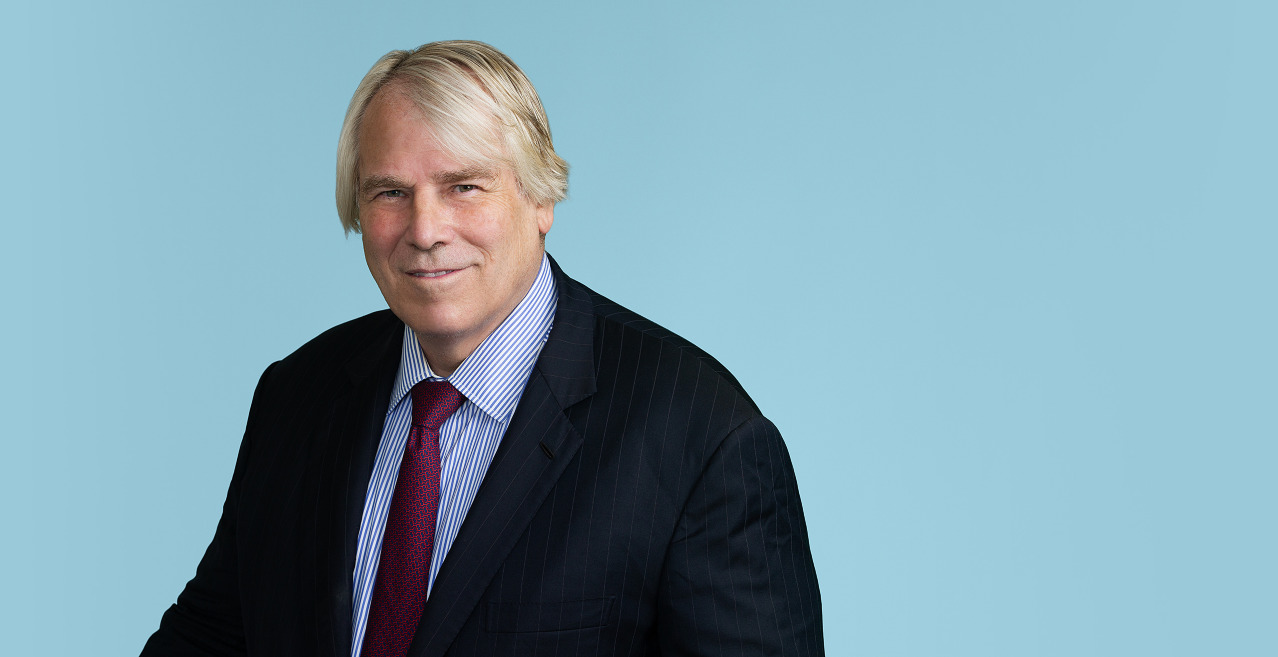 Bob has provided innovative, tireless, and team-oriented project finance advice and leadership on some of the most complex project finance transactions undertaken by my company and uses his considerable creativity and intelligence to find paths to success that at first appear closed. Bob's pedigree, experience, and demeanor make him an excellent choice for counsel in the most challenging of circumstances.
Robert Nelson Jr. has played a leading role in the development and financing of over 100 energy and infrastructure projects worldwide, including a number of landmark projects.
Bob focuses his energy and infrastructure practice on project construction, development, finance (including sustainable finance), joint ventures, mergers and acquisitions and private equity work in power, oil and gas/LNG, infrastructure and mining. His power project work encompasses renewable, conventional and nuclear projects. His renewable work includes biofuels/biogas, biomass, cogeneration, energy storage, geothermal, solar and wind. His infrastructure work includes transportation, water/wastewater and entertainment facilities, often involving public-private partnerships. He has substantial experience in related dispute resolution work.
Representative Experience
Represented The Dow Chemical Company and Mitsui in the development, project financing and construction of a chlor-alkali facility in Freeport, Texas, a project that earned Financial Times Innovative Lawyers recognition.
Served as chief counsel for Bechtel and General Electric in the successful restructuring of the largest-single foreign investment that had ever made in India, the $3 billion Dabhol energy project. (Bechtel and GE recovered all of their investments and some of their lost profits in a situation where the lenders were forced to write off all of their interest and 35% of their principal.)
Acted as project counsel for Quezon (Philippines – worldwide project of the year), Meizhou Wan (China – Asian project of the year), Ilijan (representation of KEPCO in 1200 MW combined-cycle power project in Philippines), Samalayuca (Mexico – Latin American Project of the Year), and $1.3 billion series of utility-scale solar power projects.
View More
Renewable and Alternative Energy

Represented major solar power/battery storage company in connection with extensive solar power project development and operational matters in Mexico.
Represented developers of large utility-scale solar power projects in India and the Middle East.
Represented Japanese governmental financing institution in connection with financing of solar power project in Asia.
Represented infrastructure fund in bidding for $1 billion portfolio of North American solar assets.
Represented renewable power developer/utility JV in connection with "greening" of brownfield conventional power and oil & gas facilities globally.
Represented the host government for a $20 billion nuclear project.
Representation of utility in connection with development, financing and operational issues regarding transmission facilities.
Represented infrastructure fund in connection with wind and solar power investments in Europe.
Represented WTG manufacturer in connection with sales and installation of wind turbines in 15 projects in North America, Europe and Asia.
Represented a foreign bank consortium in the restructuring of a $250M wind project.

Oil & Gas, LNG

Represented a major global chemical company in the construction of a $4 billion series of petrochemical facilities on the U.S. Gulf Coast.
Represented Dow Chemical in the development, construction and financing of an ethylene cracker facility and in connection with the development of a related ethylene glycol production plant.
Represented a supermajor oil company in connection with contemplated $15 billion and $4 billion downstream acquisitions.
Represented developers of LNG/power facilities.
Represented chemical company in connection with $5 billion sale of chlor-alkali assets.
Represented chemical company in connection with restructuring of cross-border joint ventures for development and operations of petrochemical facilities.
Represented chemical company in connection with development of $15 billion petrochemical facility.
Represented energy companies in connection with contemplated acquisitions of LNG export facility interests.
Represented contractors, infrastructure funds and strategic investors in connection with development, construction and financing of LNG projects.
Represented international energy companies in connection with sales of interests in LNG facilities in North and South America.
Represented a major international contractor in the construction of a large refinery project in India.
Represented oil companies, lenders (including IFC) and private equity firms in connection with offshore oil exploration and production activities in Africa, Asia, Latin America and North America.
Represented shipowners in connection with financing of LNG vessels and in procuring LNG marine fuel.

Infrastructure and Mining

Represented public-private partnership project developer in $4 billion military housing privatization project in Hawaii and in $1 billion military housing privatization project in Hawaii.
Represented project sponsors in bidding and operational matters relating to first-ever water privatization projects in Asia and in India, and in wastewater privatization project in the United States.
Represented developer in connection with airport privatization in Latin America.
Represented infrastructure fund investor in cell tower installation and maintenance company.
Represented developer of integrated mining, pipeline and port facilities.
Represented lender in connection with toll road financing.
Represented project sponsors in mining projects (copper, gold, iron ore) in DRC , Guinea, Indonesia and North America.
Represented lenders in mining projects (copper, gold, gold tailings, nickel and silver) in Central Asia and North America.
Represented contractor In connection with copper mining project in Latin America.
Represented infrastructure fund in investment in mining projects in Indonesia.

Dispute Resolution

Served as an advocate or arbitrator in over forty international commercial arbitrations including ICC, ICDR, ICSID, LCIA and UNCITRAL cases ($5M – $8B in dispute), which have included shareholder and joint venture agreement disputes, construction disputes, bilateral investment treaty (BIT) and political risk insurance claims, intellectual property disputes and other contractual claims.
Represented an international joint venture in successful $350 million construction arbitration regarding a petrochemical project.
Represented solar power/battery storage developer in successful ICC arbitration regarding projects in Mexico.
Served as chief counsel Bechtel and GE in connection with successful resolution of eight international arbitrations and over 40 litigations in five countries regarding the Dabhol Project Project in India. The former Chief Justice of the International Court of Justice, the Hon. Stephen Schwebel, who worked together with Mr. Nelson on the Dabhol arbitrations, said that Mr. Nelson was "the great fund of insight and acuity—and legal imagination—on the facts and laws of the case."
Represented energy company in bilateral investment treaty arbitration proceeding with the Government of India (led to $1.2 billion award being procured).

International Financial Institution Experience

Bob's lender-side experience in energy and infrastructure/mining includes representation of IFC and other multilateral finance institutions, national financing institutions (such as China Development Bank and JBIC), and commercial banks. He also has substantial experience in working with regional development banks, development finance institutions, and ECAs, including the Asian Development Bank, OPIC, CESCE, COFACE, ECGD, Hermes, K-EXIM, NEXI, ONDD, SACE and US-EXIM.
Professional Highlights
Worked extensively in the Americas, Asia and the MENA region, and has significant experience in Africa and Europe.
Named in Euromoney's Guide to the World's Leading Project Finance Lawyers since its inception and in its Guide to the World's Leading Energy and Natural Resource Lawyers.
Listed in Best of the Best USA as one of the top 25 project finance lawyers in the country.
View More
Previously taught for a number of years at Stanford University (Graduate School of Business and School of Engineering).
Fluent in French, German and Norwegian; working knowledge of Spanish; various degrees of proficiency in other languages.
Honors & Awards

Recognized in Chambers Global
Recognized in International Who's Who of Project Finance Lawyers and Who's Who of Construction Lawyers
Recognized by Best Lawyers in America (Construction Law) and Leading Practitioners: China (Energy)
Listed as one of the top 25 project finance lawyers in the country (Best of the Best USA)

Board Memberships

Appointed as a member of the Council on Foreign Relations
Service on the Board of Directors and Finance Committee of the US-India Strategic Partnership Forum (USISPF) and the joint U.S.- Indian task force on trade and investment matters

Associations

Previously served as Chairman of the International Bar Association's Project Finance Subcommittee
Taught for a number of years at Stanford University (Graduate School of Business and School of Engineering)
J.D., Columbia Law School, 1980

M.P.A., Princeton University
Woodrow Wilson School of Public and International Affairs

B.A., Harvard University
magna cum laude

Ph.D., Ludwig-Maximilians-Universität München
Doctoral Candidate in law
Spanish

French

German

Norwegian