The judge recommended that Grubhub be barred from using its new mark "with or without any accompanying or allegedly distinguishing wording, on or in connection with any and all goods and services, and in any and all advertising, promotions, and marketing thereof."
With Intellectual Property partner William Atkins serving as lead counsel, Home Chef and Kroger initially filed for a preliminary injunction against Grubhub and Takeaway.com in November 2021 claiming the company's logo infringes on Home Chef's mark.

Both logos feature a single fork and a single knife in the same position and same orientation within a house, and Home Chef's marks are federally registered without claiming color, meaning they protect the mark in all colors.
Among other measures, Judge Cummings gave weight to the finding of a U.S. Patent and Trademark Office which determined that the marks were highly similar and the respective services were related, when rejecting Takeaway.com's trademark application for its mark in January 2021 due to a likelihood of confusion with Home Chef's federally registered trademarks, according to Law360.
Atkins told Law360 that the magistrate judge's recommendation "helps Home Chef protect product integrity, restores customer confidence, defends against anti-competitive behavior, and sends a strong message that U.S. registered trademarks remain valuable and can be protected."
Home Chef has been using its logo since at least 2014, obtaining multiple registrations for the mark. The Kroger Co. purchased Home Chef in 2018 for a reported $700 million. Home Chef markets more than 500 meal kits and ready-to-eat meals through home delivery and through 2,100 Kroger grocery stores. It also partners with third-party food delivery services like Door Dash.
In 2021, Takeaway.com acquired Grubhub for more than $7 billion. Takeaway uses its house mark on all of its acquisitions around the world. In August 2021, Grubhub launched a nationwide rollout of its new branding, combining Takeaway.com's house logo with the GRUBHUB and SEAMLESS brands.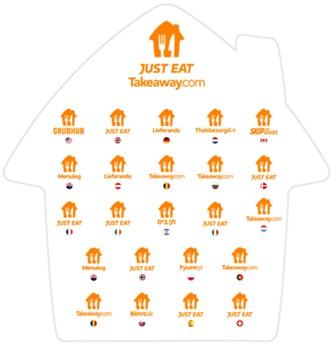 U.S. District Judge Charles Norgle Sr. will next consider whether to adopt Cummings' recommendations, the National Law Journal reported.
In addition to Atkins, the team of lawyers representing Kroger included senior associate Sam Iverson and special counsel Laura Gustafson.
To read more, see the National Law Journal and Law360.