Among other findings, "AI & Cybersecurity: Balancing Innovation, Execution & Risk," reports data security is the No. 1 reason many professional are deploying AI and nearly half of executives in Asia-Pacific, Europe and the U.S. think it is the best tool to counter nation-state cyberattacks. That appetite is predicted to drive cybersecurity AI's market value to US$46.3 billion by 2027.
Prepared by a team of researchers at the Economist Intelligence Unit, the report features exclusive perspectives from leading experts from the likes of Siemens, UC Berkeley, Stanford University's Cyber Policy Center, EY, Beyond Limits and MasterCard, along with Pillsbury lawyers' perspectives on the value of cyber risk ratings and the potential impact of the EU's AI Act. It's also accompanied by a one-page infographic summarizing key themes: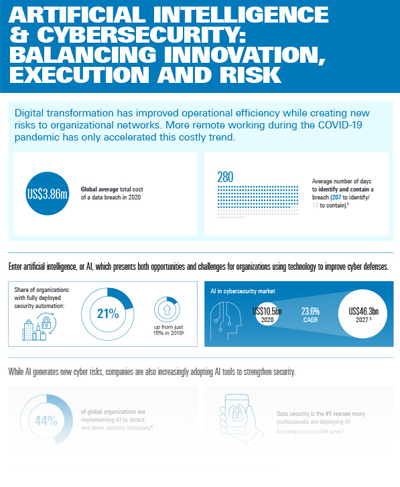 Read the full report here: AI & Cybersecurity: Balancing Innovation, Execution & Risk
Pillsbury lawyers advise public and privately held businesses on all manner of cybersecurity, data protection and privacy law issues, with particular experience in the technology, energy, financial, communications, defense/government contracts and health care sectors, as well as with critical infrastructure generally. Our multinational team of regulatory authorities, litigators, transactional lawyers, intellectual property counsel, government contracts practitioners and legislative strategists work closely with clients worldwide to monitor the rapidly changing data and cyber landscapes and tackle related security challenges.
The firm's multidisciplinary AI team likewise advises companies and government agencies on the technical complexities of artificial intelligence, as well as the evolving regulatory and legal standards that apply to it. Whether in relation to machine learning, natural language processing or neural network projects, we work hand-in-hand with AI innovators, early adopters and investors to address the full range of commercial, regulatory and liability concerns they encounter.